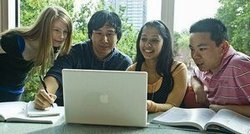 The Irving K. Barber Learning Centre currently has 8 available group study rooms:
7 in the Learning Centre (Levels 1 and 2)
5 in the MAA Library (Levels 3 and 4) These rooms are available to book by groups of 3 or more students, faculty or staff.
Use Policies
To ensure fair access to all users, please observe the following:
Bookings are made online through the Library Room Booking System.
Bookings for MAA rooms can only be made by groups of 3 or more UBC students, faculty, or staff.
A group (not each member of a group) may book a room for up to 2 hours per day, 2 times a week, up to 7 to 21 days in advance (advance bookings vary by space).
Rooms 192-194 and 263-266 are available when the Irving K. Barber Learning Centre is open (offering extended hours: 6am - 12am) and must be vacated 15 minutes prior to closing.
Rooms 315-317 and 415-416 are available when the Music, Art & Architecture Library is open and must be vacated 30 minutes prior to closing.
Groups who are more than 10 minutes late forfeit their booking.
Rooms may not be booked for conducting or receiving private, paid tutoring services.
Rooms are to be used in compliance with the UBC Library Food and Drink Policy.
The Library reserves the right to delete bookings that are found to be in violation of the use policies.
For more information please visit or call the Information Desk (CLC Desk: 604-827-3909 or MAA Library desk: 604-822-8149).
source: https://wiki.ubc.ca/Library:IKBLC_Group_Study_Rooms